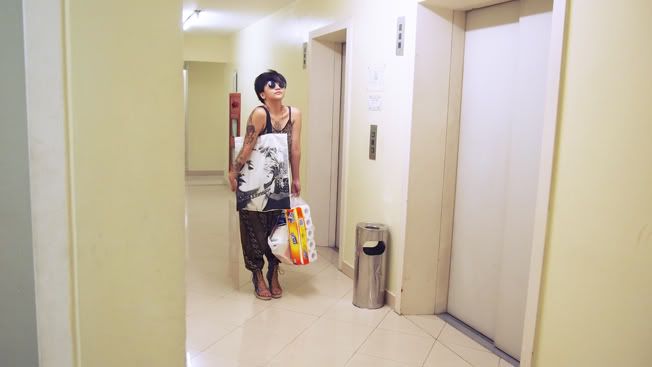 ( top - body&soul / pants - mahadewi / bag - little shop Sg / sunglasses - h&m / shoes -
21dgrs
)
Having a very fun week with Imunk. Working on some projects together is always been 'us' _how romantic :)
Oh well.., this time the project is super fun, first time i thought it's gonna be easy, but it was not! It's been a long time since the last time we make music together. I always make Imunk upset of me being a selfish rookie singer hahahaha... He said i couldn't control my mood, when i sing i think about something else. And when he said that, i became sad and emotional, ohhh b*tch. Seriously, i want to concentrate but it's just hard.
So after so long, really need to change the habits. Let's start working together in peace :D let's make something that make us both happy.
I started it with grocery. Got plan to stay full day in apartment, i will cook, and sing, and cook and sing :_D oh...
But, Imunk..., can you please take a picture of me (while i'm only holding toilet paper and Imunk carried soooo many bags) hehehe...
Oh yeaa..., i tell so many sweet things about us, but in fact shit happen to us too some times...
Btw, check out this cool artist and designer of
21dgrs
, i found a pair of lovely wedges at Seminyak - Bali, about a year ago. I randomly got inside the shop and so much in love with all their stuffs, especially the shoes and it's using Tenun. Will take a better detail of the shoes on my next post yeah.
Ok then, i will share the work with Imunk, when it's done. Cheers:)