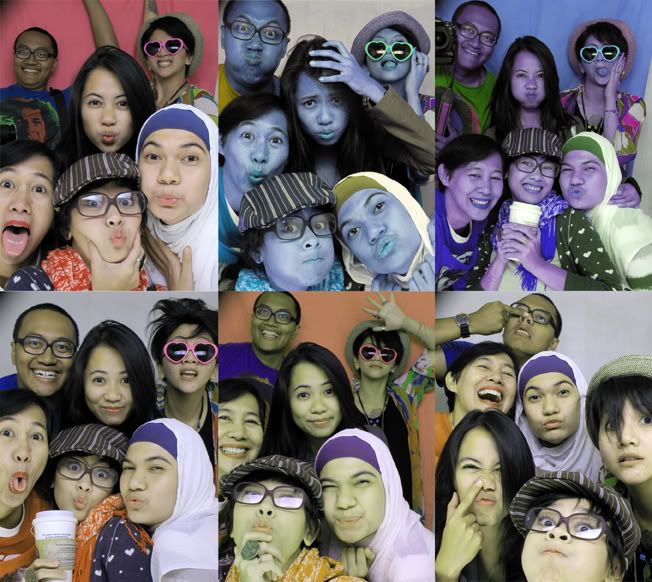 (left above - Riyo, Rere, Me, left below - Mrs. Upy, Valia, Afrida)
This pictures was taken about 6 months ago, Surabaya. I met Valia 2 or 3 weeks before this pictures taken. I was on roadshow duty for Blogger Talk Show. Valia was the presenter of the Talk Show. We went to several cities and i just couldn't imagine what will happen on the roadshow if she wasn't the presenter.
Knowing her for few weeks is truly wonderful. She's like a box of chocolate, always smile and too sweet to be true. I wasn't really happy about how my client manage the road show, the hotels, the transportation, for me everything was just a mess. Too much things to do while the roadshow is happen. I left my works in Jakarta because i've already signed this contract to be the speaker of this roadshow. My mission was to share anything i could share that time, about the knowledge of blogging and to explore our hobbies into 'something', to start dreaming and visualize it. I was so excited first time, but i smell something will not goes right since the Jakarta roadshow.
Well, i still have to finish my duty to some cities, I only asked for a proper hospitality that their had already promise me, as i will be doing the same thing everyday in different methods, and different audience each place. On the road i am getting to know Valia and i feel better each day. She never feel sad, or grumpy like i did. She's like a tiny yellow bird keep on singing every morning and spreads her smile to the world. We, totally different creature, she's like a water, just go with the flow..., and i..., i keep complained of what i see, the hotels, the car, the foods, and she came to me and she make me feel better...
One day in Solo, we had a long chat in my room. We talked about many things, i felt like i've known her for long time. She's warm. She is a friendly person.
I remember about this scary hotel in Solo, i asked Val to move to a better hotel.
After the roadshow end in Surabaya, we took this pictures a nite before we go back to Jakarta.
We promised to meet up again. But i guess that's the last time i see her cute face...
Goodbye Val, the world will miss your smile...
You are my little yellow bird :) fly away in the sky...
I bet you are now eating a pink french fries in Heaven...